Practical, interactive courses
Both classroom-based and distance learning
Certified process by QUALIOPI for training actions
DATADOCK-accredited training body
Coaching certified "Coaching Orienté Solution©" and career mentoring
Our face-to-face trainings are organized in compliance with the latest sanitary and safety régulations.
All our training courses are organised both face-to-face and remotely, the same for our coaching services. Contact us!
Managing
a team
Training focussed on your requirements for managing and coordinating a team: from starting the job to becoming established as a leader. All of the best new management tools: visual management and leadership, chairing a meeting, appraisals, personal development interview, required under French employment law delegation and teamwork.
Effectiveness
in the workplace
Bespoke training to boost your effectiveness in the workplace: Speaking with ease/public speaking, interpersonal skills, organisational skills and managing priorities, preventing and managing conflict, mind mapping, positioning and self-esteem etc.
Customer relations
Boost your customer relations to canvass, build relationships, and establish long-term customer loyalty. Telephone training, business networking training to create an outstanding User Experience.

Quality certification was issued under the following category: training actions
One email per week to help each learner to anchor the acquired knowledge and skills in a sustainable way.
The 5/5 is a follow-up for each trainee. With his agreement, the trainee receives an email every week, for 5 weeks, starting on the last day of training.
Coaching and mentoring
Active talents offers coaching to help you achieve your career goals and identify your own solutions.
The goals are put in writing and the timescale is agreed in advance.
Whether it's about a career change, positioning yourself in the workplace, assertiveness, self-esteem, organisational skills, management or interpersonal skills, Active Talents offers you practical, people-focussed support to help you realise your potential.
Distance coaching and support: Active Talents also offers distance coaching and support to give you greater flexibility when scheduling the various sessions in your diary.
Coaching certified « Coaching Orienté Solution© »
« Change is a door that can only be opened from the inside »
Tom Peters*
Save time with distance learning!
Our distance learning are carried out
on the basis of 2 formats
Quizzes, fun educational tools, collaborative walls, online mind mapping, educational videos, quizzes…
The training document is sent at the end of the session.
A follow-up of the acquired knowledge is carried out.
An internship certificate is delivered.
For your company
Upstream preparation interview

Educational content adjusted to the context and challenges of your organization

Validation of prior learning
In business-to-business mode
Open to anyone wishing to improve their efficiency and professional skills

A simple registration by email

According to a defined calendar (Contact us)
We gently develop the strengths of course participants and believe in their success.
We use fun and varied teaching methods to promote learning and involve all participants in their training programme.
Engagement is in our DNA.
We place an emphasis on experimentation to embed learning and achieve tangible results.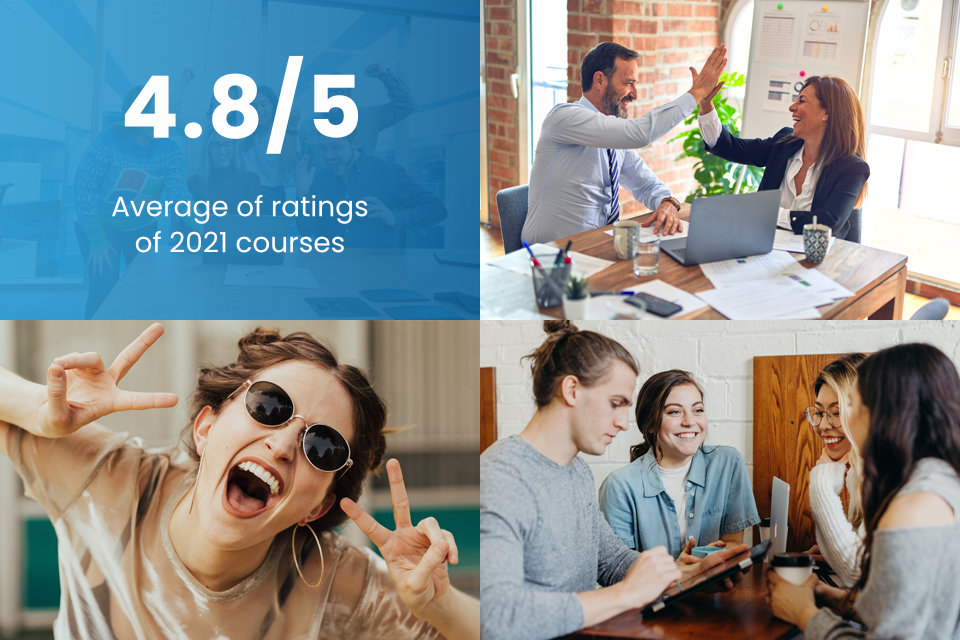 « Our employees are all unanimous in highlighting Patricia's skills. Her always-relevant theoretical input, her teaching methods, her adaptability and her listening skills all contribute to her success both as a trainer and coach. »
« Thank you for the standard of discussion, your teaching methods and the enjoyable nature of the training. »
« A moment of sharing and buliding which will remain the foundation of a wonderful project! Huge thanks Patricia ! »
« The trainer's understanding allowed me to deal with a stressful subject (public speaking) with great fluidity »
« Positive and beneficial training, I feel the results every day with prospects and clients, thank you Patricia! »
« Clear, concise content, supported by appropriate teaching aids »
« This training gave me tools that I could use on a daily basis. The facilitation was perfect, very good training that I will recommend »
« The feedback is always very positive, great availability, great adaptability »
Contact us
Do you have a question about a course?
We have many satisfied clients in the manufacturing and service industries. Don't hesitate. Send us an email and we will get back to you very soon.