Practical, interactive courses
Both classroom-based and distance learning
Certified process by QUALIOPI for training actions
Coaching certified "Coaching Orienté Solution©" and career mentoring
All our training courses are organised both face-to-face and remotely, the same for our coaching services. Contact us!
Managing
a team
Training focussed on your requirements for managing and coordinating a team: from starting the job to becoming established as a leader. All of the best new management tools: visual management and leadership, chairing a meeting, appraisals, personal development interview, required under French employment law delegation and teamwork.
Effectiveness
in the workplace
Bespoke training to boost your effectiveness in the workplace: Speaking with ease/public speaking, interpersonal skills, organisational skills and managing priorities, preventing and managing conflict, mind mapping, positioning and self-esteem etc.
Customer relations
Boost your customer relations to canvass, build relationships, and establish long-term customer loyalty. Telephone training, business networking training to create an outstanding User Experience.
A weekly email to embed your knowledge and skills.
The 5/5 is an optional five-week follow-up programme. Participants who opt in will receive a weekly email including a recap, quiz and challenge, beginning on the last day of the course
Coaching and mentoring
Active talents offers coaching to help you achieve your career goals and identify your own solutions.
The goals are put in writing and the timescale is agreed in advance.
Whether it's about a career change, positioning yourself in the workplace, assertiveness, self-esteem, organisational skills, management or interpersonal skills, Active Talents offers you practical, people-focussed support to help you realise your potential.
Distance coaching and support: Active Talents also offers distance coaching and support to give you greater flexibility when scheduling the various sessions in your diary.
Coaching certified « Coaching Orienté Solution© »
« Change is a door that can only be opened from the inside »
Tom Peters*
Improve your emotional intelligence with Active Talents and EQ-i 2.0
How emotionally intelligent are you? Find out with our EQi2.0 self-assessment service. Based on seventeen years of research by psychologist and scientist Dr. Reuven Bar-On, EQi2.0 (Emotional Quotient Inventory) is the world's most popular emotional intelligence assessment.
Emotional intelligence assessment measures skills in five key areas: self-expression, interpersonal, decision-making and stress-management.
In practice: you fill in an online questionnaire and receive a detailed report containing a visual representation of your emotional intelligence.
We are certified to administer the assessment and interpret the results with you. We will help you to assess and identify your strengths, opportunities for development and areas for improvement.
Want to develop your leadership skills, improve your self-awareness and gain greater insight into your emotional intelligence?  Get in touch! Contact us!
Save time with distance learning!
Our distance learning are carried out
on the basis of 2 formats
Quizzes, fun educational tools, collaborative walls, online mind mapping, educational videos, quizzes…
The training document is sent at the end of the session.
A follow-up of the acquired knowledge is carried out.
An internship certificate is delivered.
For your company
Upstream preparation interview

Educational content adjusted to the context and challenges of your organization

Validation of prior learning
In business-to-business mode
Open to anyone wishing to improve their efficiency and professional skills

A simple registration by email

According to a defined calendar (Contact us)
We gently develop the strengths of course participants and believe in their success.
We use fun and varied teaching methods to promote learning and involve all participants in their training programme.
Engagement is in our DNA.
We place an emphasis on experimentation to embed learning and achieve tangible results.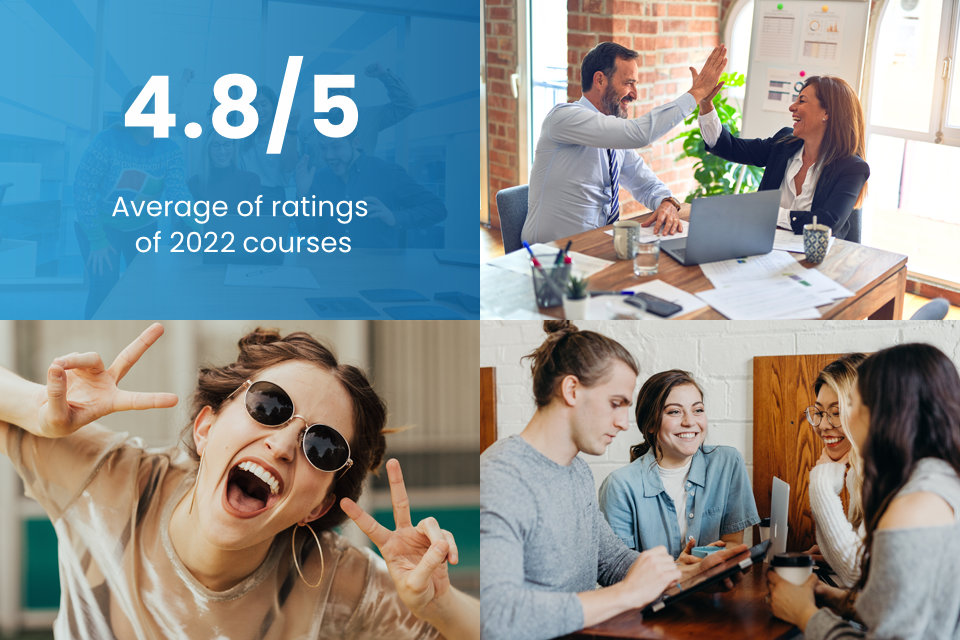 « Very good results. Each of the trainees improved their skills »
« Very interesting, fun and appropriate training. We didn't see the time pass! I learned a lot of things that will be useful to me. Thank you!!! »
« Thank you for these moments of collective and increase in skills 🙂 »
« Fun and enriching training that allowed me to consolidate certain knowledge »
« The feedback is always very positive, great availability, great adaptability »
« Very good communication before, during and after the training »
Contact us
Do you have a question about a course?
We have many satisfied clients in the manufacturing and service industries. Don't hesitate. Send us an email and we will get back to you very soon.